Time
for another Phatality Phight, this round featuring two straight up badasses. In the black corner standing at 6 foot 2 and 250 pounds is
Kimbo Slice
, and in the other black corner standing at probably around the same and weighing around the same would be
Mr. T
.
Kimbo Slice (born: some less badass name) became famous by
kicking the crap out of anyone
who wanted to get the crap beaten out of them by Kimbo Slice. He was born in the Bahamas, then soon moved to the US and attended
Bel-Air
Elementary school.
Really, he did.
So after fighting on the streets, literally, for awhile Kimbo went pro. After defeating Ray Mercer (possibly related to
Lee L. Mercer Jr
?) he won a few more fights with his signature move, the one-punch knockout, then lost on purpose and took a break. Allegations of being a half dragon and/or half
two eyed cyclops
are pending against him.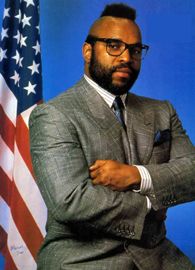 Mr. T pities the fool who fights against Mr. T.
Mr. T was born in Chicago, home of Da Bears and God coach
Mike Ditka
, da coach. Mr. T is the only A-Team member who didn't need a gun, because he can destroy people with his mohawk alone. Mr. T pities the fool who is on Team Kimbo instead of the
A-Team
because the A-Team is indestructible.
Fact
: Mr. T. got his mohawk from reading National Geographic and has a photographic memory. When Mr. T learned that his chains cost about the same as a country in Africa, he said to himself "No, T, you can never wear your gold again. It's an insult to God" and donated them to charity.
Mr. T is the co-author of "T and Crumpets" and pities the
fool
who doesn't read his book.
Think you could take on these guys?
I think not
.